I met Dirk Nowitzki for the first time in Detroit. It's an hour's drive from Ann Arbor to the Pistons' arena. It was a stressful day because it was the hot phase of our season. We had a game the next day, Michigan vs. Wisconsin, to be shown at Prime Time – I guess that says it all. Sold out. 12,000 spectators at the Crisler Center. If we win the game, we have a good chance of going to the NCAA Tournament. And the morning before I had a statistics-exam – which would have been in the evening during our game, so I had to prepone it. It would start at seven in the morning. The Dirk game was at half past eight, it was over at eleven, I wasn't home before one. On the way back I looked at my statistics-material. It turned out to be my best exam of the semester, but on that day everything seemed to turn out to be a catastrophe. I also told Dirk about the situation. And he said: »Then what are you doing here? They let you do this here, even though you have such an important game tomorrow?« He's just a normal guy, you don't realize that he's Dirk Nowitzki. You don't even notice that there's a star standing in front of you. He just put on something fresh and came out while the others were still showering. And we talked for a quarter of an hour.
»The year 2011 made me an NBA fan.«
For me, basketball and Dirk have always belonged together. It's like coffee and milk. That's why I can't remember a specific moment when I first heard of Dirk. I didn't really follow the 2006 finals. I was nine back then, it was before my basketball time. But I followed the playoffs in 2011, which were really special for me. My parents and I were on vacation and were at some lake with friends where we had no reception. So I couldn't watch the sixth game in Miami. But I was extremely excited all day and when I got back to civilization, I checked how it turned out as soon as I could. I remember sitting in the tram in Berlin with my father before the season and we played a manager game: Everybody buys players. We discussed wildly and I said: »My insider tip this year are the Dallas Mavericks. Caron Butler and all the others.« In fact, Butler got injured pretty quickly, but this year Butler's injury was a kind of initial spark. I think he badly broke his knee, but during the whole season he is said to have worked like an ox. And everyone else saw: He doesn't play, but he works really hard. This year was something special. I think this year, 2011, made me an NBA fan.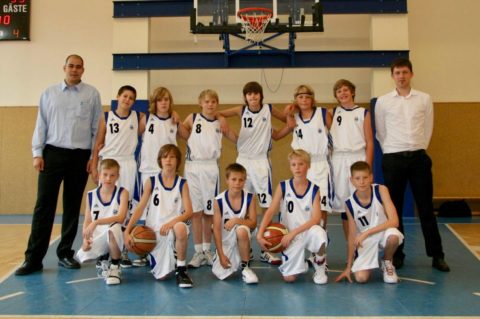 When I was eight years old, I started playing basketball at Alba Berlin. 2005. My coach convinced me to come to a training session, although I didn't really want to at first. I had already done a trial training three years before, but I hadn't really liked it at all. But when I was eight, it clicked very quickly. I played soccer like any boy and was pretty good at it, but with basketball everything went a bit easier. It wasn't hard work to understand things quickly. I played basketball and soccer at the same time for two years until highschool, when I had to choose between the two sports. Back then, I had a growth spurt and suddenly I was bigger than everyone else. It was clear that I would continue to grow. So I decided to play basketball.
I had heard about the NBA before, but I wasn't a fan from the beginning. It took me about two years to really get into it. I got my first basketball magazine in 2007, after LeBron James was destroyed by the Spurs, 4 to 0. I still remember: We moved from Schliemannstrasse in Prenzlauer Berg to our present apartment, and my parents moved the things around back then. I was at my Grandma and Grandpa's, angry and sad because I wanted to stay at our old home. Admittedly: My brother and I were always very reluctant to leave Mom and Dad. To comfort me, my grandfather told me: »Moritz, how about a basketball magazine?« Why not, I thought to myself.
»I guess I'm a person who has certain ideas of how things should be and then strives to implement them.«
From 2011 I read every report about Dirk and the NBA in the Sueddeutsche-newspaper. My parents had subsribed to it, and I browsed it every day for NBA stories. I followed all the news about Dirk, good and bad – and of course there's a connection between us. I've identified with him, not only because he's big and from Germany. I guess I'm a person who has certain ideas of how things should be and then strives to implement them. And Dirk´s story is just perfect: A little boy goes to America, the first two years are miserable, the first year a catastrophe even. But Dirk and Holger Geschwindner have been working in their lab for years, so they continue. And then it really starts.
At Alba I trained intensively with Henning Harnisch for many years. Konsti Lwowsky. Sebastian Trczionka. Sasa Obradovic. Enrico Kufuor. At that time it was a difficult and somehow controversial decision to go to college, but what should I do? I didn't say that back then, but now I say it like that. It's my life! And now everything is fine again. Konsti Lwowsky and I often write, he is a real basketball freak. I grew up with him, I learned to play organized basketball with him, and that's why we have a deeply rooted relationship. I know he is proud. Sometimes he hints at that and I appreciate it very much. At first everything was kind of funny when I left. It was a whole new situation for me: It was strange to leave the people I trust blindly and with whom I worked every day. I loved that! Now, however, pride prevails on both sides, and the support I still get from my old club and my people there is unimaginable. I am very grateful for that.
I met Holger Geschwindner once in Schuetzenstrasse when I was twelve or thirteen. I think it was during the preparation for a European Championship, when Dirk trained in Berlin. There were only a few people in the gym. I didn't even know that Dirk Nowitzki would be there, I was just there because I had practice. So I went into the gym, but it was unusually quiet there, no laughing, no yelling. You only heard one ball. I come in there, look to the right, see some people standing there with devout looks on their faces. I'm wondering why they're all staring like that. Then I look to the left and see Dirk. And Holger Geschwindner. And the two of them go through with their routines. I took a photo with him. It was a really bad iPhone and the photo is all grainy, and I don't have it anymore, unfortunately. The camera I wanted to use didn't work properly, the battery was dead, so I had to borrow some mobile phone from someone else. Dirk said: »Let me take a quick shower, kid, I'll come back later and then we'll take the photo.« So I waited outside the door. Holger came out and smiled at me. And then he took the picture.
I'd actually like to work with them once. Not because they are Dirk Nowitzki and Holger Geschwindner, but because I know that they view basketball from a completely different perspective than normal basketball players. As I said, I want to understand basketball. I would never say that I've already understood the game. I'm striving for a certain ideal, but I'm just beginning to see what it might look like. I'm actually learning a lot from my little brother. It's been like that all my life. I get to know myself through my brother because he does things very similar to me. If you look back, you understand yourself better. For us, everything has to be perfect. And if things don't go perfectly, we get grumpy. That's also a philosophy: that you take on something, and if you don't do it, you're just not improving. That sounds pretty American, but that's a principle that has nothing to do with basketball per se. It helps me with everything in life.
I've been playing basketball for more than ten years, and I've been doing my best every day. For 99% of the time, that didn't interest anyone. And that doesn't bother me. But if you have some good games, it changes quickly. Sometimes I wonder how Dirk dealt with it. I always have to choose which name I like best. »German Schnitzel« or »Moe Buckets« and so on. Call me Moritz, I'd love to say. If you get this kind of fame for the first time, then that's new territory, and you want to really experience it. And the attention you get is a little bit like the harvest of what you sowed. But you understand pretty quickly: That's not the point. It is not about people talking about you. It's about me playing good basketball because I love this sport.
In any case, I noticed this much more clearly last summer than the year before. Nobody knew me. I was unknown and surprised people. This year, on the other hand, people expected something. There's a lot of hype when you're good. But when you go 0-of-7 from three, everyone hates you. I've gone 0-of-7 before, and nobody cared. After the Louisville game last season all these people suddenly came ver from Germany, too, and college basketball doesn't even really interest anyone in Germany. At least I thought so.
»If I'm already there, then I'll make the most of it.«
Attention isn't always easy. I am a student. I now know that the words in your mouth are often turned upside down. I am like my father who just says what he thinks. Sometimes I have to keep my mouth shut during a post-game interview. I'm being honest. There's a framework to adhere to, but sometimes I get grumpy. As a college player, you don't actually have a voice, but I don't want to behave like that during an interview and stand there like I'm tied up and recite a script. Anyone can do that, it's boring. If I'm already there, then I'll make the most of it. And then, of course, I sometimes say things which will make me go: What did I just say?
My father has seen right through me all my life. He is a psychotherapist and has taught me to put myself in other people's shoes and to understand what they are thinking. And what they want. The journalists, for example. In a way, their situation is comprehensible. It's about clicks. We are kids playing basketball and the journalists have to tell a big story about it every day.
Someday I'm gonna write a book about all this. For this year I intend to write everything down so that I don't lose and forget the details. Sometimes I've done this more or less consistently, but I have a plan and when I find a little more time, I bring it all together. I have a few stories to tell, even though it's not much compared to someone like Dirk and Holger Geschwindner.
What is always important to me and what I understand more and more: Basketball is more than just a game. It's not just about playing basketball. You can enjoy all the hype and feel great, and that might even be important. But in the end, if you can reach a lot of people, you have a certain responsibility. You have to use this opportunity. It's about behaving the right way. To inspire people. Whether it's on the playing field or in everyday life.
»Dirk was also a shy boy once, but he wasn't afraid to dream big.«
That's something Dirk understands. He's living the dream of millions of basketball players. For me, he made basketball real and concrete. It gave me hope and made me believe that it was really possible. Dirk played basketball and he managed to convey this feeling to me back then. I always had this Dirk poster in my room that says, »All dreams sound crazy. Until they come true.« Some people take it for granted. But it's not. Dirk was also a shy boy once, but he wasn't afraid to dream big. Even now, after all these years. Despite decreasing athleticism. Pay cuts and loyalty. Nobody else does that.
The meeting with Dirk in Detroit was organized by someone for me, but it had to be arranged in advance with the NCAA. You can't just say: We're going there now, you get a ticket and you meet him. There are strict rules. I'm not a professional basketball player, I'm just a student. We don't get any money, we are officially normal students and play in the name of Michigan. But I didn't just go to Michigan because I wanted a degree. Of course it is important for me to have a balance to basketball. It's good for me to learn and have an academic basis. But I must also honestly say: I'm doing my university degree for Mom. Of course it is a good side effect and I am aware that it will help me immensely later in life. But in the end I want to join the NBA.
It's not about the money. If it was money, I would have become a professional long ago. Basketball is about making my dream come true and doing what I love. Of course I want to make money with it at some point. Because in society you do need money to survive. But that's not what it's all about. It's about being in a situation where I feel comfortable and can do my sport. The game is the basis.
That was the cool thing: The conversation with Dirk was not a round of questions, we talked about our things. He knew where and how I play. We talked quite well, I asked a few questions, and he did too: How we started, how things went, how my studies were going, and how I got along when I came over here.
»Being authentic means: doing it yourself. You can learn that from Dirk Nowitzki, I think. You could copy Dirk Nowitzki, but authentic you have to be yourself.«
For most Germans, Dirk Nowitzki is simply a basketball player. They like him, but they don't really know him, they don't know how good he really is and what kind of guy he is. I think that's Dirk's advantage and also a disadvantage: that he alone sets the standard. He reaches the average Joe, unlike average basketball players, since basketball is not popular enough in Germany. That's why he determines the image of the basketball player. But a normal person does not understand that Dirk is not an average basketball player. Dirk makes it all look very easy. And when you ask the normal people on the street: »Why don't more Germans play in the NBA?«, they probably say things like: »We don't have big people«. They don't know the sport well enough. You have to admit that to yourself: The last European Basketball Championship wasn't on TV – what is that? There are so many cool projects and initiatives today that bring basketball to schools and daycare centers. But our society has too little interest in basketball in general. Which is a pity. It's different in America, where I'm a bit spoiled as a basketball player. In Germany, soccer dominates sports reporting. But if you don't see basketball in everyday life, if you don't watch it on TV and nobody is interested in the sport, then we can't expect that there will be more Dirk Nowitzkis. I could talk myself into a rage about that. The only thing the average German knows about basketball is Dirk Nowitzki.
His story is, of course, the perfect story. The Americans love it this way: A guy comes from a foreign country, from a city that nobody knows, obviously, and hasn't played a game of highschool or college basketball. He's not someone who always says what you expect and want to hear. And he has a good sense of humor and can laugh about himself. He's an authentic guy. Being authentic means: doing it yourself. You can learn that from Dirk Nowitzki, I think. You could copy Dirk Nowitzki, but authentic you have to be yourself. Life throws you in at the deep end. Everybody has to find his own way. My name is Moritz. I am who I am.
Our last year in Michigan went really well, we had a great team. Apparently, Dirk watched the tournament, since he tweetet after the semi-finals: I see you @Moritz_Weasley. That made my day. I would have liked to stay in Michigan, but I decided to declare for the 2018 draft (more on this at  The Players' Tribune and www.mgoblue.com). It's my life. Maybe Dirk and I will meet soon in some NBA-arena. On some basketball court. Maybe it will be a good story I can write down. The next chapter.